Head Back into the Viking Age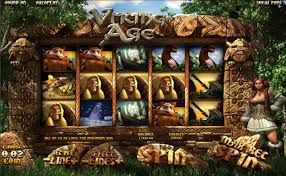 When this game begins, you see a Viking ship heading for an island amid a storm. The 3D scene is very appealing and sets up the mood for the game very well indeed. It's worth watching to be introduced to some of the characters you'll find there. But when the game itself starts, what can be won there and how valuable will it be for you?
Reels and paylines
This is a five-reel game that has a total of 30 lines in play.
Betting options
You can start with two cents on each line, but you could increase this as far as 50 cents per line. There is a chance to play five coins per line at most, too.
Special symbols in play in Viking Age
There is no wild here, nor is there a scatter symbol. But don't be thinking the game has nothing to offer by way of special features. As you'll see, this is not the case.
Bonus features to explore
There is a strange little character on the reels with big ears that must appear three times to unlock the Runestone Doors to Valhalla feature. Choose one of the symbols given and see whether you win free spins, free credits or even access to the bonus feature. Next, the female character called Amma can grant you free spins if you get three or more of her appearing on the reels. There are multiplier spinners to either side of the reels that can influence the size of each win… but you must get a line that has the same multiplier at the start and end. Finally, the bonus second screen feature is triggered by getting at least three arm-wrestling symbols. Go head-to-head with two Vikings and choose your side to see if you win. What prize could await you in this round if you pick the winning side?
Download and play Viking Age slots today!
The game comes with an autoplay feature that is good to use if you like to sit back and watch what goes on. There is a lot to watch too, with Vikings occasionally wandering in to help. If you like playing a great game with a lot of depth and different features to the ones you'd normally see, this could be a good one to have a go at. You may end up with some nice prizes to show for your time there.