World Leaders Slots Review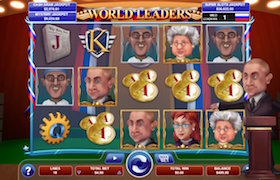 If you enjoy truly unique online slots, then you're going to like World Leaders slots, which presents a colorful take on world politics. You'll not only find likenesses of several famous world leaders in this 5-reel, 18-payline slot, but you'll also play for 3 different jackpots and unlock several political-related bonuses. Keep reading to discover what these bonuses are along with info on the symbols, atmosphere, and betting options.
Symbols and Betting Options
No world leaders are specifically named in this slot, but some of the representations are obvious. They include an English queen (Queen Elizabeth II), Russian president (Vladimir Putin), US president (Hillary Clinton, Sarah Palin hybrid), Korean dictator (Kim Jong-un), Middle-eastern leader, and southeastern Asian leader. Other important symbols include a telephone (bonus), crown (UK wild), bear (Russian wild), golden eagle (US wild), A coins, K crest, Q gear, and J newspaper. As for betting options, paylines are fixed at 18, but you can change your total bet from $0.36 to $252.00 per spin. Once you're happy with your betting options, you can use the arrow to autospin the reels for anywhere between 5 and 25 spins.
World Leaders Slots Bonuses and Features
While World Leaders has an interesting setup, what's really fun about this game is all of the different bonuses and features that you can trigger. After 25 spins, a spinning globe will automatically pop up on the screen. You click the globe to stop it, and you'll land on either the US, UK, or Russia. The country determines which of the following 3 wild symbols that you get: UK Wild - Duplicates itself to another position to help form wins. The position is chosen to give the best possible win out of all positions. US Wild - Found on reel 3, the US wild expands horizontally and vertically to form a cross of wild symbols. Russian Wild - You get free re-spins, and the Russian wild moves to the left after every re-spin. These spins continue until the wild has exited to the left. Aside from these wild symbols, you can also trigger a Choose your Ally bonus. 4 leaders and 12 phones are shown onscreen, and you call the leaders to receive varying prizes. Once you call the same leader 3 times, the bonus ends and your credits are added up.
World Leaders Slots Mobile
World Leaders slots is appropriately named because you can play it from anywhere on the planet through your smartphone or tablet. It's definitely worth doing so too because this game offers 3 unique wild symbols along with a nice second-screen bonus. We also like the fun theme, which hasn't been done before in the slots world up to this point. That said, this slot gains big points on two levels through both its originality and multiple bonus features.